AFRICAN DRUMMING WITH RAY PEREIRA
Learn African Drumming in Melbourne with Ray Pereira, one of Australia's most experienced African Drumming teachers and performers
On Jan 26 2021 Ray was awarded an Order Of Australia Medal for service to the Performing Arts as a Percussionist, Performer and Composer
Learn African Drumming in Melbourne with Ray Pereira, who is one of Australia's most experienced African Drumming teachers. Learn to play African Rhythms on the Djembe Drum, Dun Dun Drums (African Bass Drums), Cowbells, Shakers and other Percussion Instruments.
Ray's students can move from Beginner through Intermediate to more Advanced levels of playing, with a wide range of opportunities to learn, practice and perform.
Weekly classes are held in Footscray, Fitzroy and Brunswick.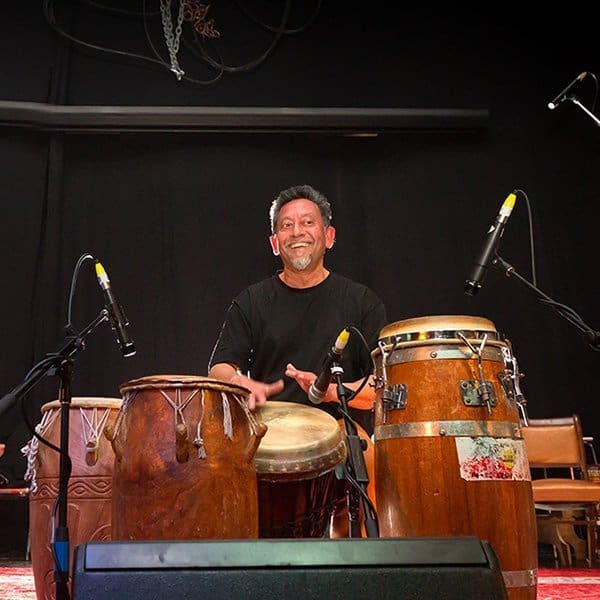 Ray has established a reputation as one of Australia's leading percuRssionists and is regarded as an expert in African Drumming and Afro Cuban Drumming styles. Ray will teach you to play a range of African rhythms on the Djembe Drum, Dun Dun Drum (African Bass Drum), Shakers, Bells and other instruments.
Ray is passionate about the music he plays and teaches, and he has designed his courses to help you learn a range of instruments, rhythms and percussion techniques.
Join Ray's African Drumming Classes
Ray's extensive study of different styles of drumming has given him a unique ability to explain clearly to people how complex rhythms fit together. Ray and his teachers are able to demonstrate the nuances in the music that will make your lesson one of the highest quality and an enjoyable experience.
Ray and his team of African Drumming teachers invite you to experience making powerful and inspiring music as part of a group, while learning a traditional art form that has been around for centuries.
Join Ray's African Drumming Classes in Fitzroy, Brunswick and Footscray, and experience the joy of making music in a group with other people who are interested or curious about learning and performing African Drumming.
Have fun and be challenged to learn and perform African Drumming rhythms in a holistic and authentic way.