Treat your students to a fun educational and cultural experience
 Kate – Glenferrie Primary  –  "We had the pleasure of having Kofi and Abli from Ray Pereira African Drumming perform for Harmony day.The students and teachers loved it, and had smiles on their faces long after it was finished Not only was it entertaining and energizing but they the students learnt about African drumming and culture. Thanks again".- March '22
Luke – Footscray Primary – "Hey Ray, Thanks so much for organising such an amazing performance. The energy and excitement the performers generated was well received by all our students and teachers! The cultural dress, various dances and wonderful drumming was incredible.The performance was also great for showing the students, that with practise, you can get to that level of performing.Thanks so much". – March '22
"I have been taking Year 5 and 6 students to Ray's African Drumming classes for a decade. I love the program. 
African Drumming adds a whole new aspect to a school's curriculum that combines cultural diversity and the theory and practice of music seamlessly into the creation of great performances. 
Ray is a master of his craft who has high expectations of all students and knows how to motivate and draw out the inner musician in every individual. Drumming can be the success story for students who find academic learning challenging. 
African Drumming has become an integral part of our school's identity, culture and celebrations."
Andrew Gray
Teacher at Footscray Primary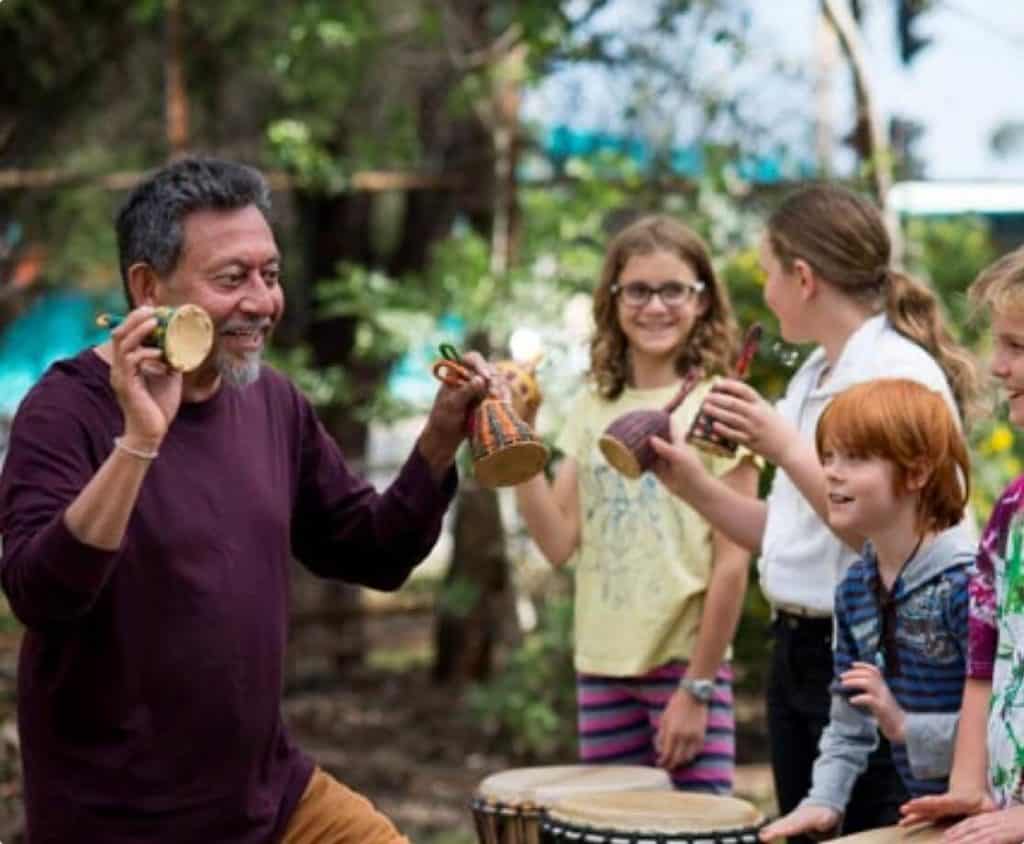 Let Ray and his team introduce your students to the exciting world of African Drumming.


Ray and his team of experienced teachers and performers can provide you and your students with a one off drumming or dance workshop, an artist in residence program or regular weekly drumming classes for just one term or the whole year.
Talk to Ray and he will tailor a program to suit your requirements.
Ray and his team are experienced teachers who are able to get your students actively involved in their programs, keep them engaged and produce amazing performance outcomes.
Why African Drumming For Children?
Most children love the drums and are instantly attracted to playing them.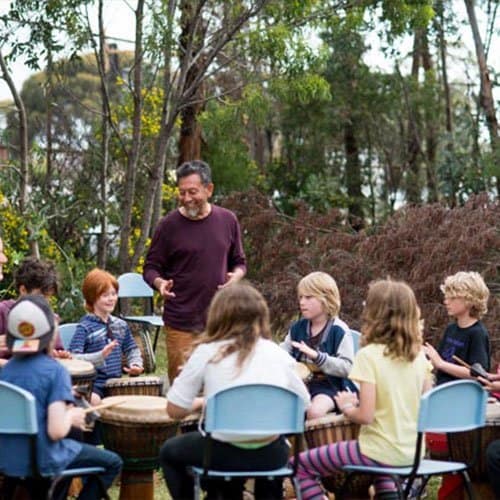 Children of all ages
The repertoire is designed for children of all ages and any level of musical experience. Children will be encouraged to value the quality, not 'quantity', of music they play.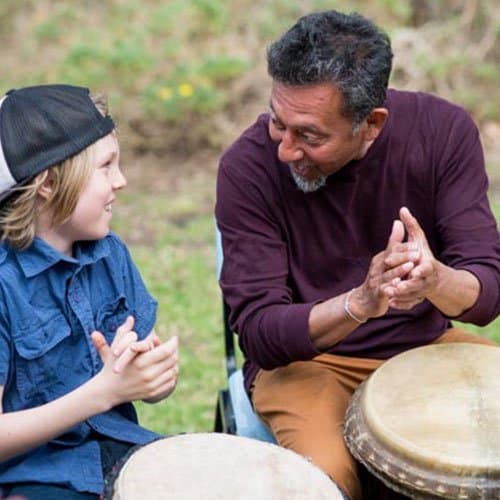 Supportive
Children learn that the rhythm cannot be executed successfully and musically unless they listen carefully, and are supportive of each other.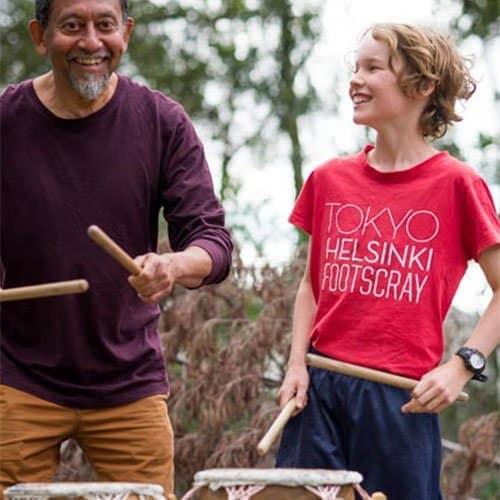 Joyous and satisfying
The music children will learn has been around for centuries and is joyous and satisfying. Children get a real kick out of playing challenging rhythms that they can move and sing to.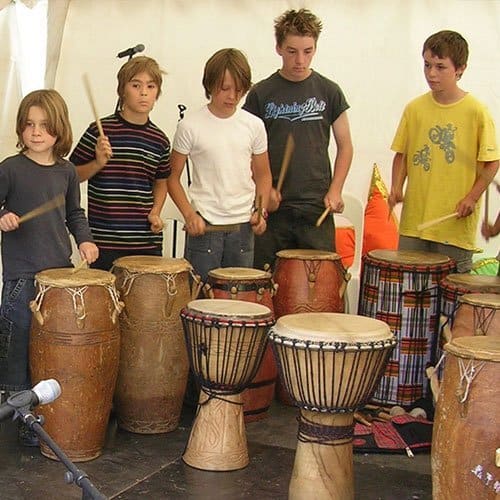 West African rhythm
Folkloric African traditions have influenced music right around the world – from Latin and Afro-Caribbean, to Jazz, Rock and Pop. We will be going back to the source of many styles of music – primarily to traditional West African rhythm, dance and song.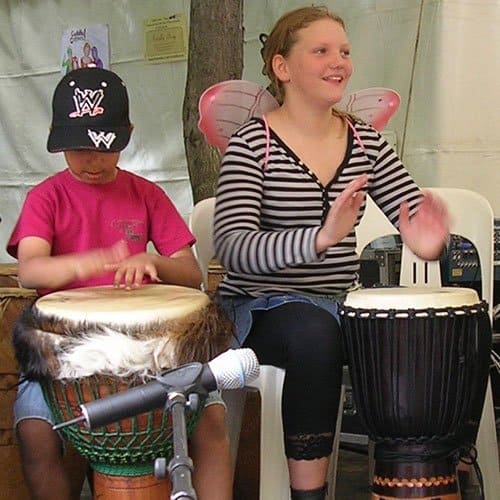 Play harmoniously
A typical African rhythm is composed of several different parts played on the different instruments. All these parts are played together and the children will learn to listen to each other and play harmoniously together.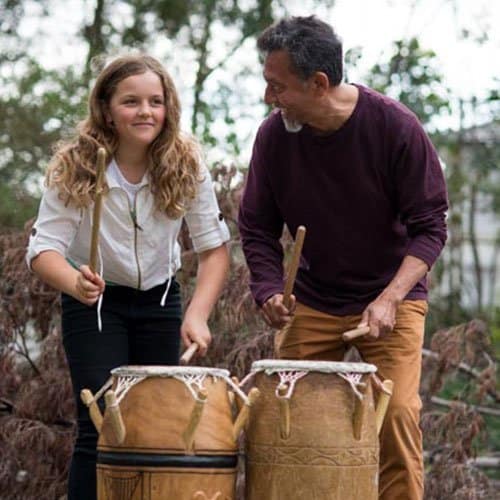 Aural skills
These sessions with Ray and his team will improve your childrens' understanding of rhythm, enhance coordination and aural skills, and develop their sense of time.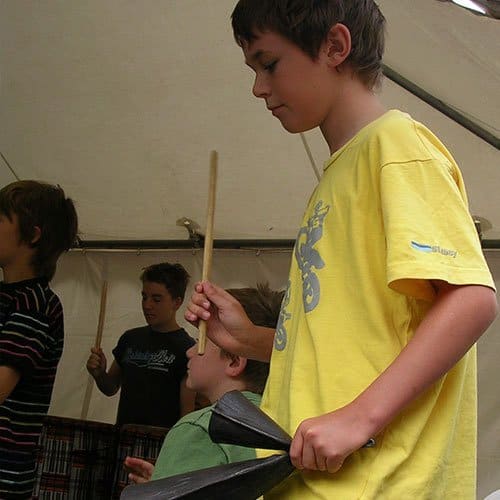 Many instruments
African rhythms can be played on many instruments. We use a variety of hand drums from the West African Region. The children are introduced to Djembe drums played with the hands, African Bass Drums called Dun Duns played with sticks and other percussion instruments like Cow Bells, Shakers and Tambourines.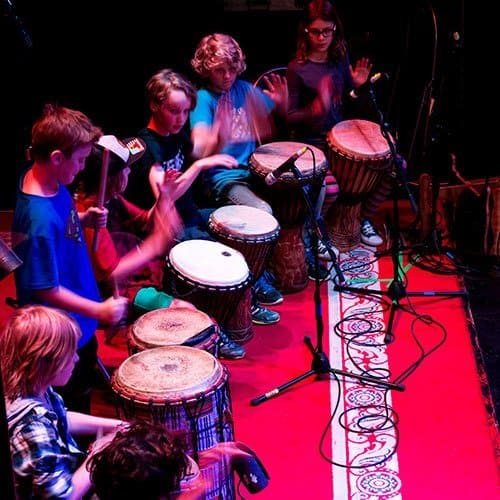 Sessions in Melbourne
Ray and his team have run hundreds of school workshops and drumming sessions in Melbourne and Interstate over many years. Ray currently runs regular weekly drumming programs at Footscray Primary School, Kororoit Creek Primary, Derrimut Primary and Dandenong Primary in addition to one off sessions and incursions at schools around Melbourne.
Ray has taught African Drumming at Footscray Primary School for a number of years. As a teacher at this school I have been privileged to have the opportunity to be part of this wonderful program. At the start of the year, my year 3 class really struggled to settle in but has really turned around after the effort Ray put into work with each and every student. He has taught us so much about music and culture. Ray views all his students as capable of learning and differentiates to cater for all levels of learners in every class. He is a skilled performer and an excellent teacher. I would highly recommend Ray's Drumming Program. Be ready to be inspired!
Thanks again for another outstanding workshop. The students were buzzing afterwards – it was a great way to start off the tour. I look forward to the next tour, where we hope we can book you again."
 Abli was fantastic and the kids loved him. The kids really enjoyed the concert and the mix of drumming, dancing and singing. The parents also loved the concert and liked the interaction with Abli during the concert.
Thank you again for organising these workshops; it was a great experience for the kids! Ray has enabled and built the confidence, levels of enjoyment and capacity of participants to work as effective percussionists and musicians. This confidence has also contributed to students developing a greater sense of themselves as learners and to their co-operative group skills.