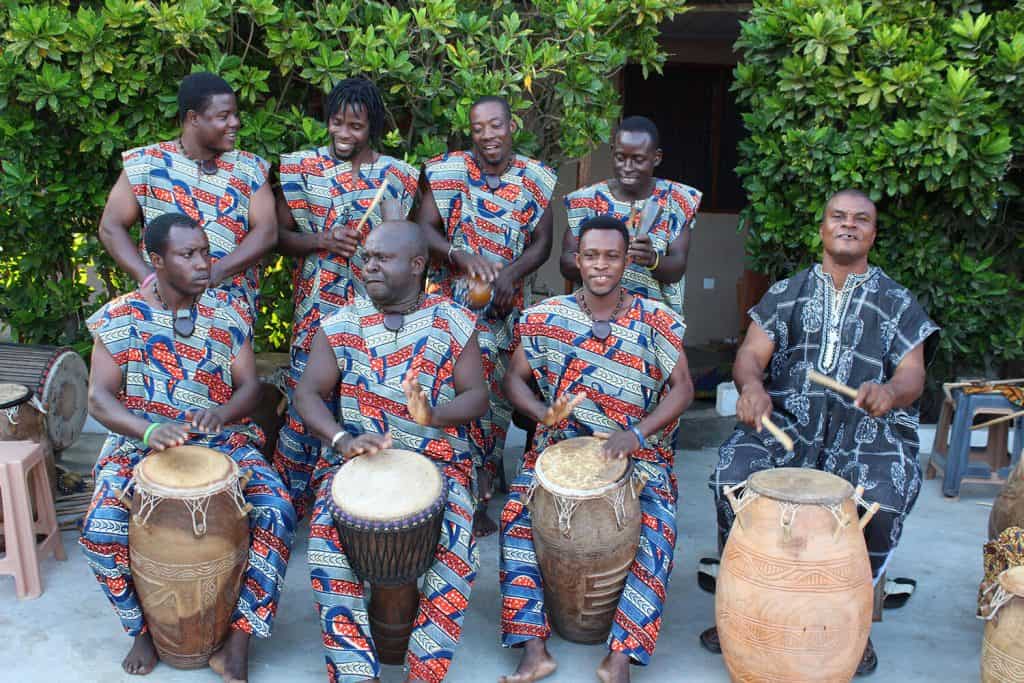 Traditional African Drumming Group – Kusun Ensemble
African Drumming Melbourne
Why learn African Drumming With Ray
Ray is an experienced teacher who has taught African Drumming to thousands of students here in Australia and Internationally. Ray is now based in Melbourne and is regarded as an expert in West African Drumming and Afro Cuban Drumming styles. Ray has established a reputation as an excellent teacher who has been a pioneer in his field, being one of the first to introduce African Drumming to the wider community in Melbourne and around Australia.
Ray has travelled to many countries to study and has spent several years travelling to West Africa in particular to study with world-renowned traditional  experts. Ray has experienced first hand the role that drumming plays in traditional African societies and brings this wealth of knowledge and expertise to his classes in Melbourne.
Learning African Drumming with Ray will give you a deeper understanding of rhythm. Ray's expertise in a number of African Drumming Styles and his wide ranging experience as a performer and teacher means that he is able to explain clearly to new students how African rhythms are played correctly. He is able to break down all the parts that make up a rhythm and explain how they all fit together.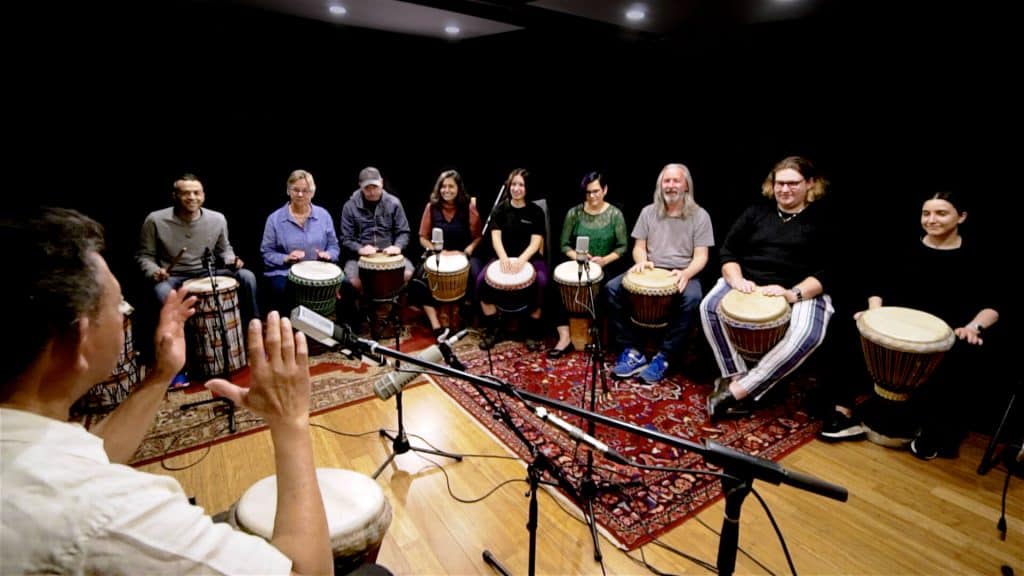 What will You Learn in Ray's Melbourne African Drumming Classes?
Ray's  classes in Melbourne are run in small groups. Ray's beginner groups will introduce you to the exciting world of African Drumming and Rhythms. In these classes you will be introduced to the African Drums and Instruments that make up an Ensemble.
A typical African Drumming Ensemble has several parts and drums that play harmoniously together. The drums used include the popular Djembe Drum played with hands and the Dun Dun drums (African Bass Drums) played with sticks. You will also learn how to play other instruments that are used in the ensemble, like cowbells and a variety of shakers.
In Ray's Melbourne classes you will learn how to listen correctly to all these rhythms being played at the same time and not be confused.
You will learn how to play your own part and how that part fits in with all the other parts and drums.
Ray will teach you how to play with good technique and with the right feel for the music.
Whether you are a professional drummer or just learning for fun, Ray will teach you how to get good sounds from the drum so that your playing sounds good. When you sound good you get more enjoyment from your playing.
In Ray's classes in Melbourne you will learn the technique of how to strike the drum in the right place and the technique of how to get the different sounds that make up the individual rhythm.
Ray Teaching Beginner Class the Muffled Slap
There are many sounds that a player can get from one Djembe drum. A high pitched 'pop' sound called a slap using the finger tips, a deeper bass sound using the palm of the hand in the middle of the drum and a clear open tone where the drum is struck with the full length of the fingers letting the natural tone of the drum resonate freely. There are also many other variations to these sounds such as the muffled slap that you will learn as you get more experience.
It's a cultural experience
Folkloric African traditions have influenced music right around the world – from Latin and Afro-Caribbean, to Jazz, Rock and Pop. A number of popular music forms we listen to today have been heavily influenced by African rhythm. In my classes we will be going back to the source of many styles of music – primarily to traditional West African rhythm, dance and song.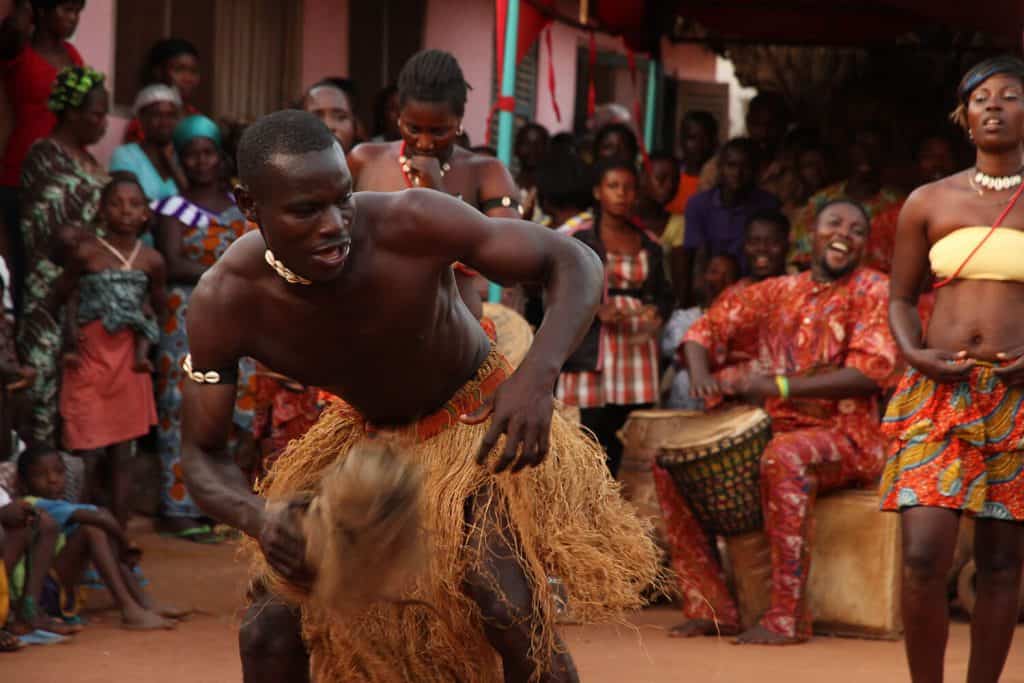 Traditional Performance in Ghana
It's creating music as part of a group
The repertoire that will be introduced relies on several parts being played harmoniously together. You will learn to listen carefully and play responsively to others. Learn how your part fits in with the others parts of the ensemble. Learn the importance of your role and how that helps the others in the group. Learn to play with a steady rhythm in time with the others. Learn how to hear how all the individual parts played on the Djembes, Dun Duns and other instruments combine to produce the complete rhythm.
It's good for you
Ray's classes will improve your understanding of rhythm, enhance your coordination and aural skills and develop your sense of time. Participants are encouraged to value the quality, not 'quantity' of music they play. His classes will set up a good rhythmic foundation on which you can build. You can develop the skills to become a percussionist, help you move onto other instruments move onto other instruments or just continue to drum and have fun playing with your friends.
It's for everyone
Ray's classes are designed for people of all ages and any level of musical experience. It's inclusive.
There is a place for everyone in the ensemble regardless of ability. Even though it takes a lot of practice and skill to play at a high level just like any other instrument, African drums on the other hand can be an easier instrument to begin on. African Drumming can provide an easier entry point for anyone who wants to try music. The drums are not as intimidating as other instruments can appear to a beginner.
Ray's classes start off with simple rhythms. As you get better and more experienced Ray will guide you through more complex rhythms and sounds. Ray is a patient teacher and has designed the classes so that you can progress at your own pace. You will enjoy the group dynamic that Ray creates and the sense of community that he has developed among his students.
It's fun!
The African Drumming Rhythms and the music you will learn has been around for centuries and is joyous and satisfying. Participants in Ray's Melbourne classes get a real kick out of playing challenging rhythms that they can also move and sing to. Most people love the drums and are instantly attracted to playing them.
Interacting with other drummers in the group and working cooperatively with each other produces a beautiful harmonious sound that is an enriching experience and promotes a deep sense of satisfaction and well being. You can have fun and enjoy yourself while developing your skills.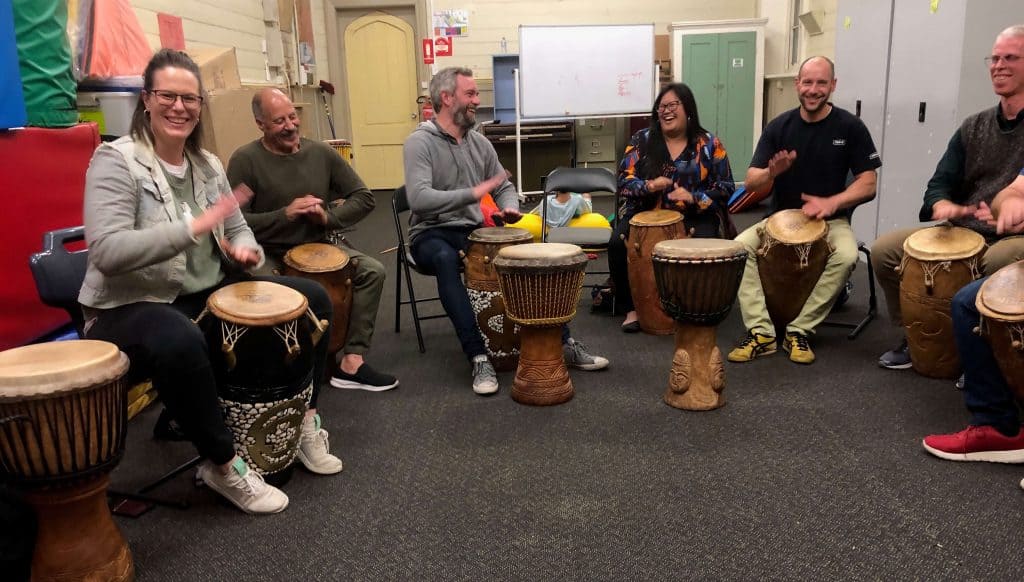 Performances and Fundraising
Ray runs a couple of Fundraising Concerts a year where he and his students raise money for educational projects Ray has initiated in Ghana and Sri Lanka. On Ray's many visits to study  in Africa and play with traditional musicians, he has met many families who need help with educating their children, paying medical expenses and needing financial assistance for other emergencies.
Ray sends the money raised through these concerts directly to the families who need help.
These concerts are also used to showcase what Ray's students have learnt. All his students are encouraged but not forced to participate in these concerts, which not only helps raise much needed funds but also fosters the building of a supportive drumming community.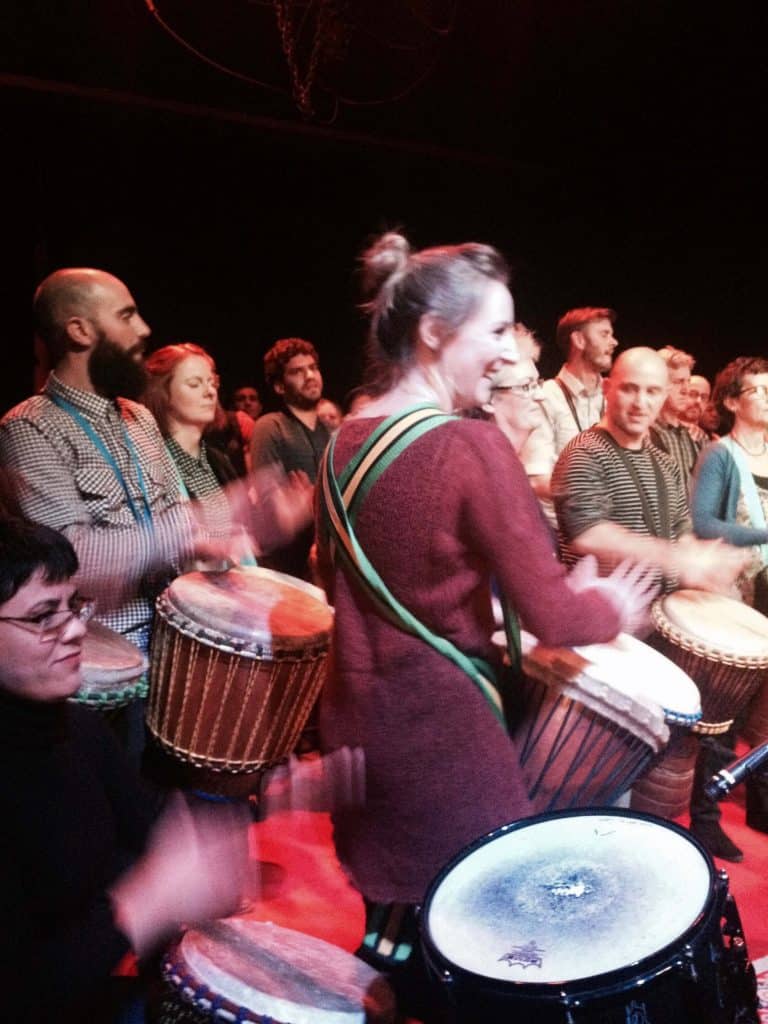 African Drumming In Traditional African Society
African Drums and African Drummers and have played an integral role in traditional African societies for centuries.
African drumming and rhythm has been around for centuries and has been used to bring communities together in celebration and in joy. It has been used to commemorate significant milestones in the lives of people and to mark important community events.
Drumming is performed at all important occasions and  celebrations like the birth of children, marriage,  and other significant family occasions. It is also an important part of other community celebrations. Harvest festivals have their own drumming rhythms, songs and dances. Ceremonies to celebrate the coronation of a chief or king use traditional drums and drummers as part of the ceremony.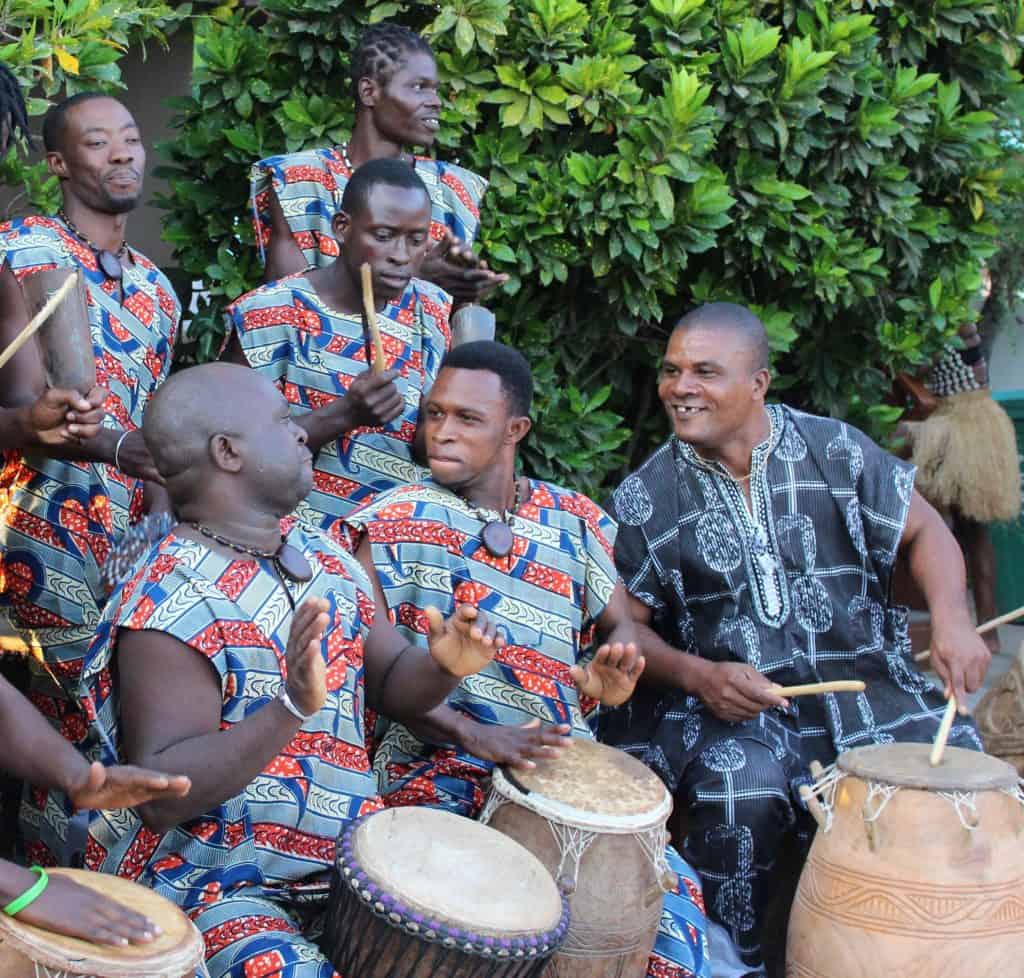 African Drumming, dance and song also always accompany religious rituals and festivals celebrating traditional Deities and Gods. A number of the rhythms we hear today originated from these traditional occasions and have now been adapted to more contemporary forms of performance. In the past, these rhythms were also used as a means of communication. African Drumming was and still is a language and  is used to bring communities together.
Ray and Traditional African Drumming
Ray has spent several years traveling to Africa to study  with professional drummers from the communities where these rhythms originated. This has given Ray a deep cultural insight into how and why these rhythms are played and the cultural context of the rhythms. Ray will relate to you stories about the rhythms and you can learn the history and background of the music you will be learning and playing. This will give you a deeper understanding of music and rhythm and can lead to a much richer experience.
Ray likes you to have a holistic learning experience and teaches you to appreciate what you learn on the drum within the broader context of making harmonious music with other people in a group.
While developing your musical skills you also develop a sense of community in Ray's African Drumming  Classes.
Teachers at Ray Pereira African Drumming Kofi and Abli Performing Outdoors.