Bookings now open for 2024. Please register now by email. Costs include access to video content of material taught and supply of drum.Classes will resume at end of  January 2024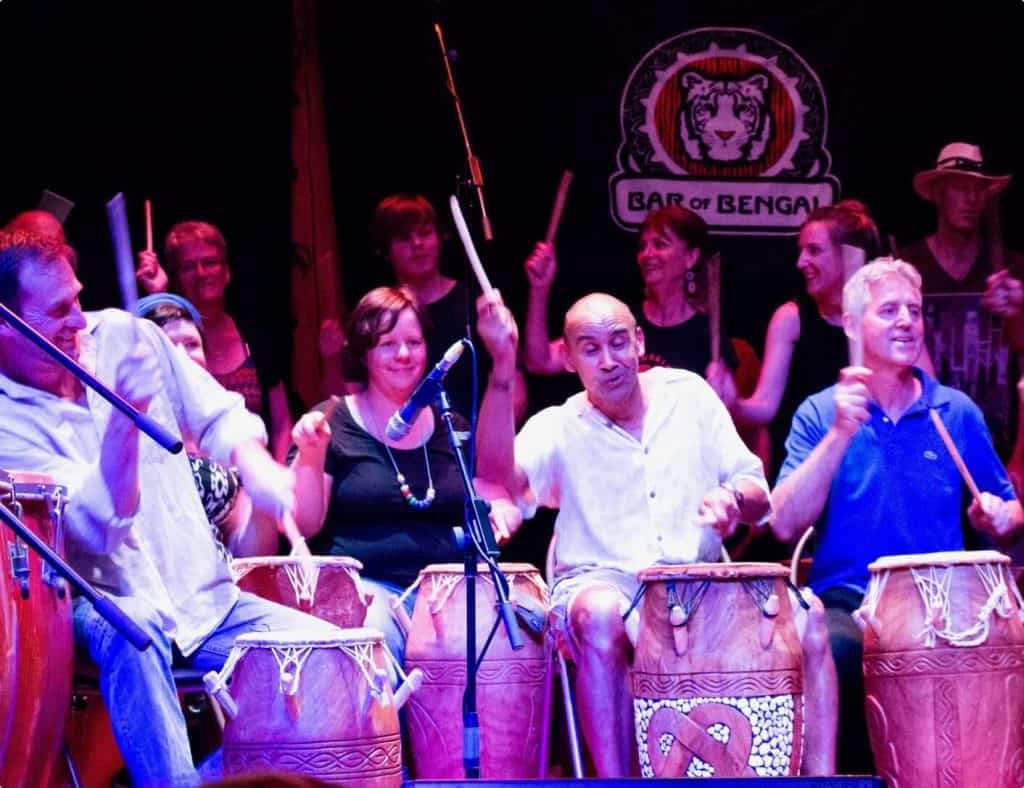 Ray's African Drumming Classes in Melbourne are presented as courses that run over four consecutive weeks.
Your teachers will show you how to get good sounds from the drum, how to listen to the rhythms and to experience the joy of making music and playing with other people in a group.
Ray's African Drumming classes are a supportive and fun environment where you can really challenge yourself. 
Weekly classes are held in Footscray, Brunswick and Fitzroy/Northcote. Costs are $120/$100 conc. for 4 week course.
CLASS LOCATIONS AND TIMES
Costs are $120/$100 conc. for a 4 week course.
Footscray
Next Course Starts –  Wednesday November 29
Wednesday nights 8pm to 9.30pm
Location: Footscray Primary School cnr Geelong Rd and Commercial Rd Footscray. (Enter through Staff car park in Commercial Rd)
Fitzroy
Next Course Starts – Monday December 4
Monday nights 8pm to 9pm
Location: Uniting Church Merri St Brunswick.( Temporary Covid safe location )
Next Course Starts –  Monday December 4
Monday nights 6:30pm to 7:45pm
Location: Uniting Church Merri St Brunswick (Just off Sydney Rd near the Town Hall.
Brunswick
Next Course Starts –  Thursday Nov 30
Thursday's 8 pm -9 pm
Location

: Meri Bek Band Hall,16-22 Cross Street, Brunswick (Next door to Brunswick Bowling Club)
Beginner classes are for new people who want to try out African Drumming for the first time and for those who may have played a few times before. There is no need for previous experience and you don't need a drum.
Ray will guide you through the basics of African drumming and show you how to get good sounds from the drums. You will enjoy learning about African Drumming, African Drumming rhythms and enjoy playing these rhythms with other people in a small group. You will be pleasantly surprised at how quickly you can improve under Ray's expert guidance.
Intermediate African Drumming Classes are tailored to suit those students who have had some prior drumming experience.
Generally speaking, most Intermediate students have already done a few courses in Ray's Beginner Classes, but if you have had some drumming elsewhere and want to join Ray's Intermediate class then it's best to call Ray and discuss this with him first. Ray will be able to then suggest a class that best suits you
The advanced classes assume that you have had several years drumming experience and have a good knowledge of African Drumming and Rhythms. 
All Ray's current advanced students have been studying with Ray for a few years and are then invited to join his advanced class. If you have drummed elsewhere but still want to join Ray's advanced group then call Ray to discuss this first.
Call Ray to discuss options if you want your child to do African Drumming with Ray. 
Ray runs school holiday programs for children and also runs regular classes from time to time. If your child wants to join one of Ray's regular adult classes then that may be possible depending on the age of your child, their experience and also their maturity.
Ray also runs master classes for professional musicians and music students at universities and music colleges. He can tailor a session to suit your requirements – please contact Ray for more details.
Frequently asked questions
"I started drumming with Ray in Feb 2019, and have been looking forward to the Tuesday evening classes since then.
He balances between challenging us with new rhythms and also helps us to learn by breaking it down to parts that are easy to pick up.
Ray has a wicked sense of humour so there's never a dull moment. He also takes a moment during classes wow us with his drumming mastery, which is always a treat!
What's really special is that he's a top human being who uses his art and generosity to bring people together in his gigs for students, while also helping out families in Sri Lanka and Ghana. So glad to have crossed paths with him!"
"Ray is fantastic! A phenomenal percussionist, he teaches the most delicious rhythms and breaks them down in such a way that they're easy to pick up.
He's a cool guy – funny, encouraging – and is really attentive to the technique of each individual.
I've learned so much from him already and it's only been a couple of months. Highly recommended teacher, I feel very lucky to be learning with him."
"Joining Ray's drumming class has been one of the best things I have ever done for myself. Over the past year the Brunswick drumming class has become an important part of my week.
Ray's passion for teaching and his mastery of rhythm, along with that of his teaching staff, is truly inspirational.
Not only has he helped build confidence in my evolving drumming skills, but a confidence that extends to the rest of my life. Thank you Ray for creating such a special community, a feeling of camaraderie, that I am honoured to be a part of."
"I had a good friend ask me to attend his drumming concert last year. I was excited to attend the concert to see how he was doing in his classes. I was so blown away when I saw the concert. Turns out this teacher Ray doesn't just teach djembe classes, looks like he fosters a community of people to share with themselves and others through rhythm and dance.
I was so happy seeing everyone perform I just couldn't stop smiling. I thought, this Ray guy, I want to learn from him too. So I signed up for his drum classes the following year.
Turns out I was right, Ray is a master teacher of djembe and rhythms, but he's also a master of letting you know how to see the most within yourself and having confidence to improve. Not just with the drum, but also within yourself.
A great mentor with a big heart. You can tell a great teacher by the community they foster and love, with patience and sharing. I found mine."
"If you're a music lover this is the drumming class for you.
You won't just cover African rhythms and techniques, you'll also touch on Sri Lankan, Cuban, Brazilian and more. Great teachers and supportive groups."
"I've been drumming here for a few months now. The classes are great, we learn a lot about music from different parts of (mostly West) Africa and play the djembe as well as other African percussion instruments.
Ray is a very experienced and knowledgeable teacher and there's a great group of students too. We always have fun in our classes.