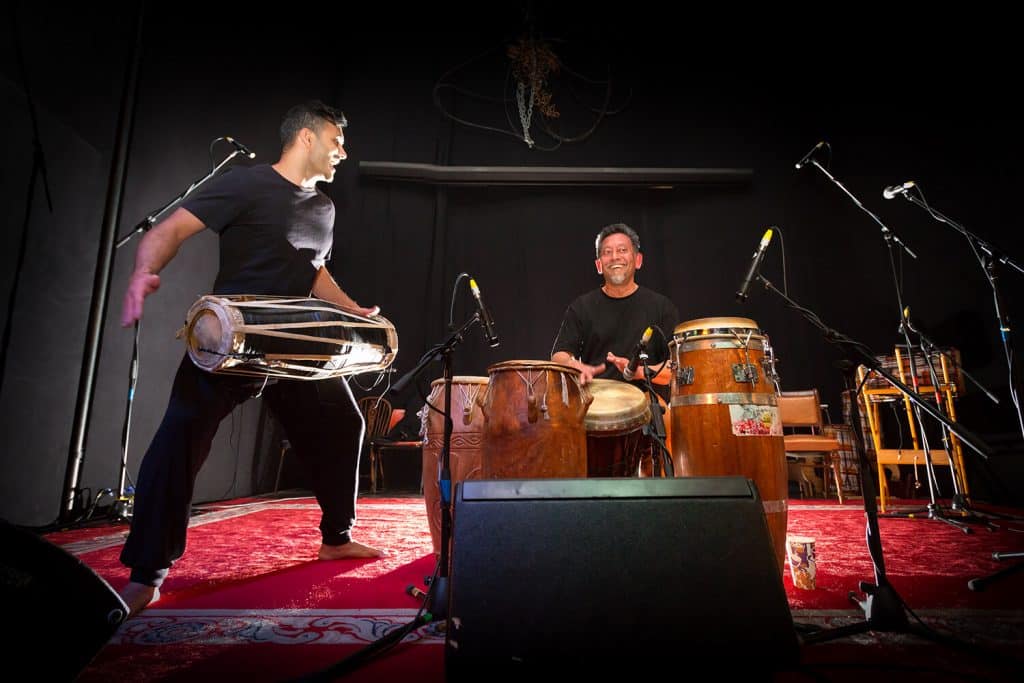 The Afro Lankan Drumming System combines influences from African Drumming and Sri Lankan drumming traditions to produce new rhythms that can be played on both African and Sri Lankan drums. Afro Lankan Drumming is a new style of drumming that Ray has developed with Sri Lankan drummer Kanchana Karunaratne.
Live performance of the Afro Lankan Drumming System With Traditional Dancers from Sri Lanka and Ghana.
After many years of developing his technique and extending his knowledge of Afro Cuban and African drumming rhythms and styles, Ray was interested in creating something new and was interested in moving in a direction that would build on and expand his knowledge and experience with African Drumming traditions.
Ray decided to incorporate the rhythms of his native Sri Lanka into his repertoire, which led to the creation of The Afro Lankan Drumming system.
Ray had realized many years ago that there were many similarities between the rhythms of Africa, Cuba and Sri Lanka even though the drums and the sounds they produced were different. Ray decided to investigate Sri Lankan rhythm styles in more detail and concluded that a new style combining influences from Sri Lankan, African and Afro Cuban drumming was possible and following more research started composing the repertoire of The Afro Lankan Drumming System with Kanchana.
Ray found the ideal partner In Kanchana. Kanchana had grown up learning traditional Sri Lankan drumming styles and then later expanded his knowledge by studying African and Cuban rhythms with Ray as well as with master drummers from Africa.
The rhythms of the Afro Lankan Drumming System are similar to African rhythms in that there are many parts that are played together in a group using several players.
Ray and Kanchana playing the Afro Lankan Rhythm Nuwa
The Afro Lankan Drumming rhythms have been designed to take into account the different sounds produced by both African and Sri Lankan Drums and the different techniques used to produce these sounds. Great care has been taken by Kanchana and Ray to make sure that the drums are used play harmoniously with each other and there is no conflict of sound and timbre.
Players who are already proficient on African Drums can play the Afro Lankan Drumming rhythms using African drums while players who are experienced on Sri Lankan drums can play the Afro Lankan Drumming Rhythms on the Sri Lankan drums. For players like Kanchana who know the technique of both African Drums and Sri Lankan drums the parts that make up the Afro Lankan Drumming rhythms can be played on either types of drums.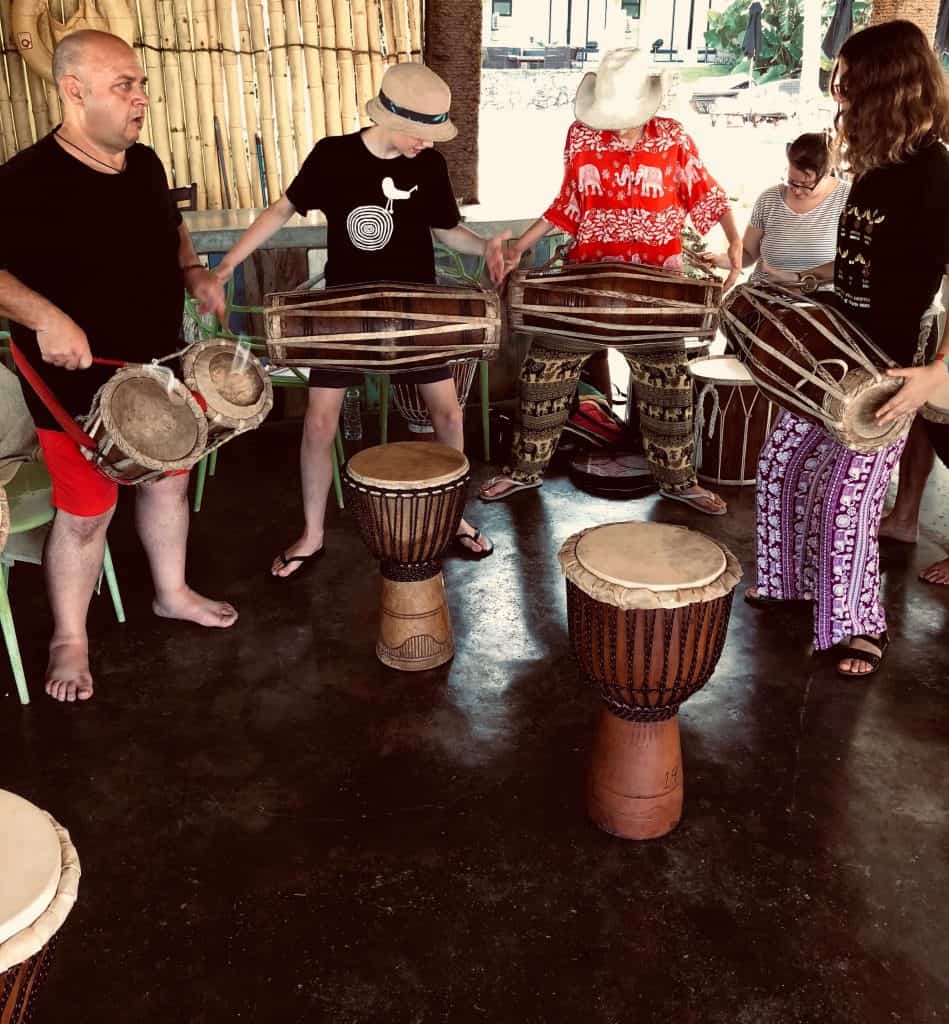 Ray's vast experience across playing many genres of music and Kanchana's knowledge of Sri Lankan drumming styles has enabled Ray and Kanchana to compose new rhythms for the Afro Lankan Drumming system that have depth and musicality and also sound different, fresh and interesting.
The Afro Lankan Drumming System has taken Ray's playing in exciting new directions that have expanded his repertoire and already contributed to new recording projects with his peers. The Afro Lankan Drumming Rhythms can be found on recordings with Way Out West's album "Effects of Weather" on the track " Anthony Blaise" and on Adam Simmons's "The Calling." These rhythms can also be heard on the short film "Maalu" by Sanjay de Silva.
Ray grew up in Sri Lanka surrounded by the sounds of Sri Lankan drums played at temples, religious festivals, ceremonies and at celebrations on the street, where musicians would congregate, singing and dancing to the accompaniment of drums.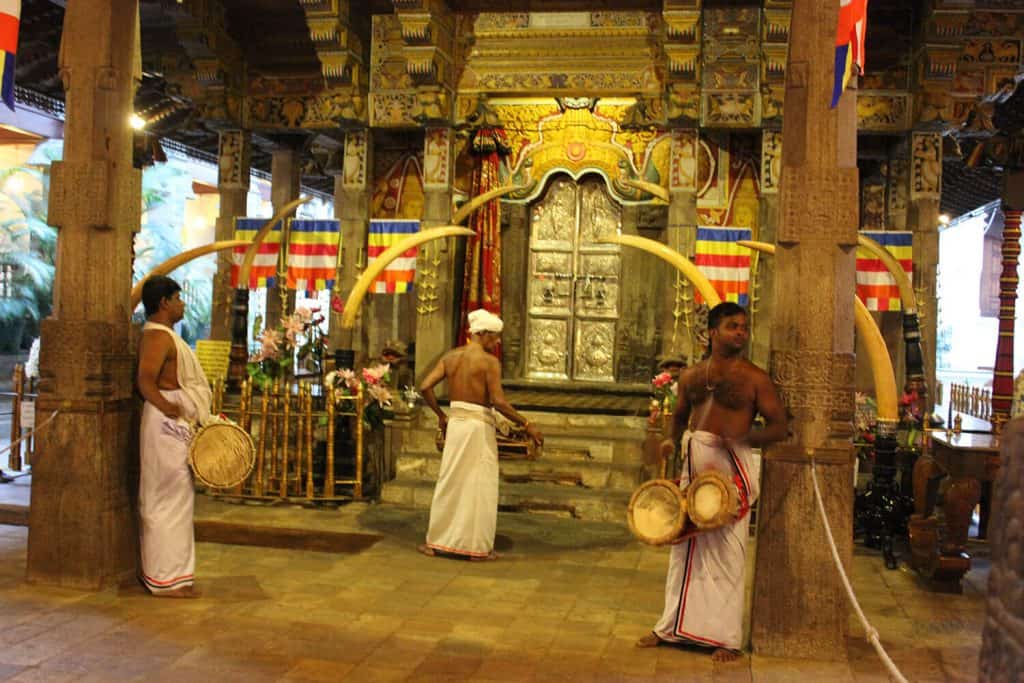 Cricket matches were also riotous occasions where drumming would accompany songs and chants, while the match was being played.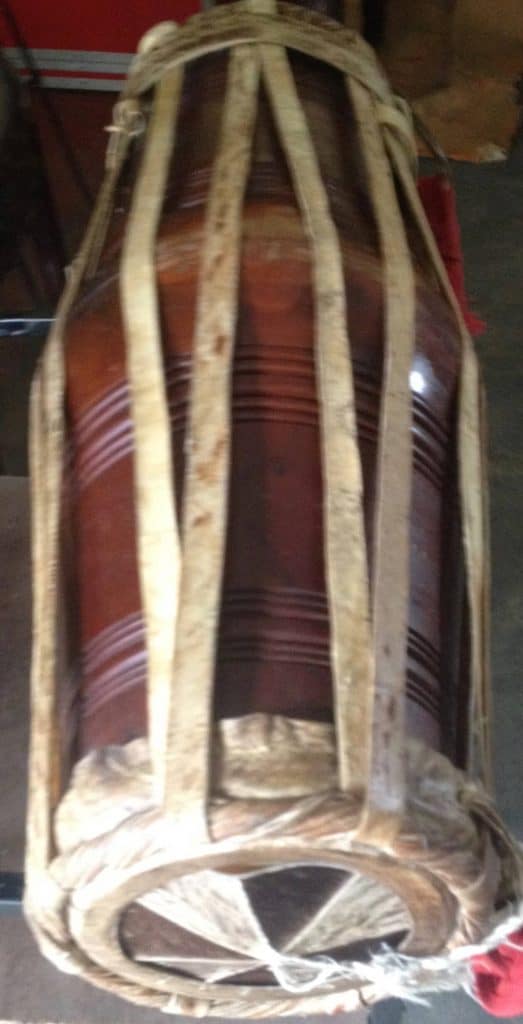 As a young boy Ray participated in some of these informal drumming sessions but did not formally learn the traditional drums of Sri Lanka. Instead Ray's musical path took him to Africa via New York and Cuba where Ray first got interested in music through listening to the Latin Rock music of the Santana band.
Inspired to play the Conga drums in a band, Ray then immersed himself, first in the study of first Afro Cuban rhythms and then tracing the roots of Afro Cuban music, in the study of African Rhythm.
Even though Ray had never formally learnt the traditional rhythms of Sri Lanka he was familiar with the more popular drumming styles and as his knowledge of African rhythm increased he noticed that there were a number of similarities in the rhythms and the feel of music from Sri Lanka and Africa. Which then led to his interest in forming The Afro Lankan Drumming System.
Kanchana first met Ray through one of his African Drumming workshops.
Kanchana had been studying and playing traditional Sri Lankan drums since he was ten years old and had reached a high standard as a player.
He then decided to study African Drumming on Djembe and Afro Cuban drumming on Conga with Ray. This association led to the first performances of The Afro Lankan Drumming System and the composition of new rhythms using both Sri Lankan and African Drums.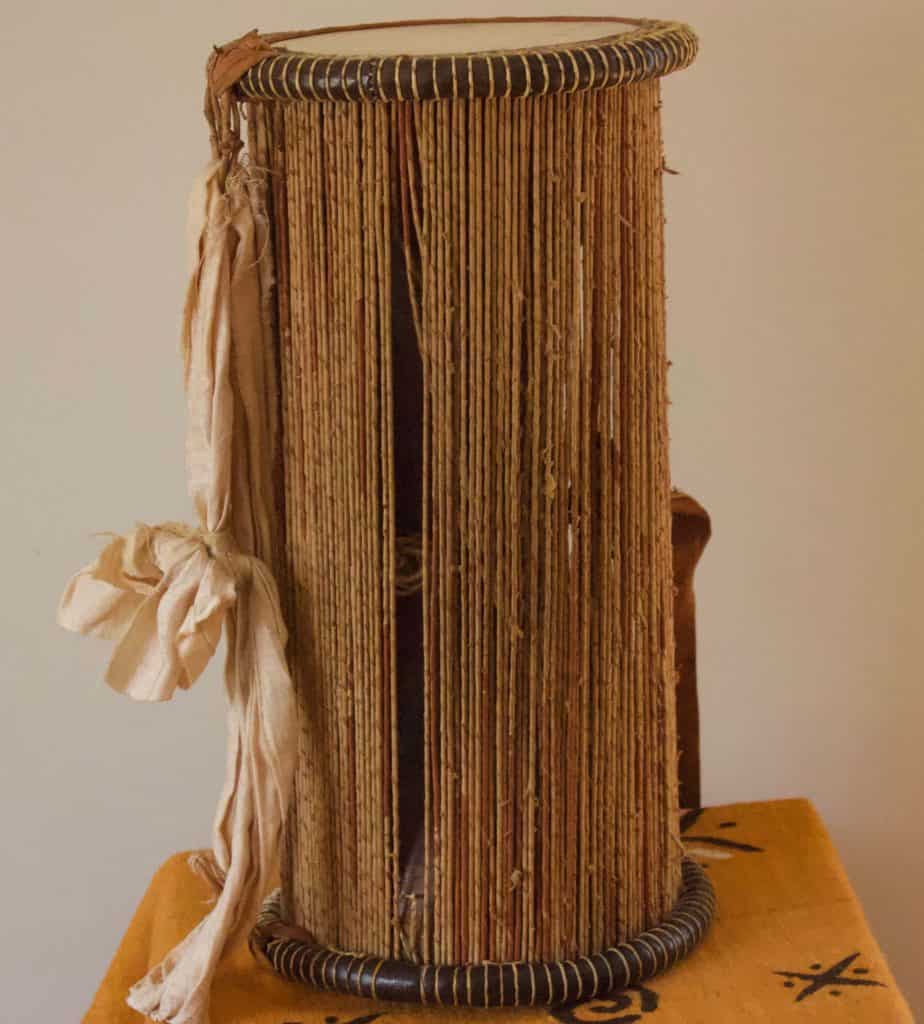 Drums Used in The Afro Lankan Drumming System
The African drums used include the Djembe drum, Dun Dun drum, Kpanlogo drum from Ghana, Talking Drum, African wooden Xylophone from Ghana called the "Gyil" plus other drums and percussion instruments like cowbells and shakers.
The Sri Lankan drums used include the Kandyan drum or Gata Bera, the Dawula which is similar to the Dun Dun,Thammatama played with sticks and the Yak Bera from the Low Country or Southernmost part of Sri Lanka.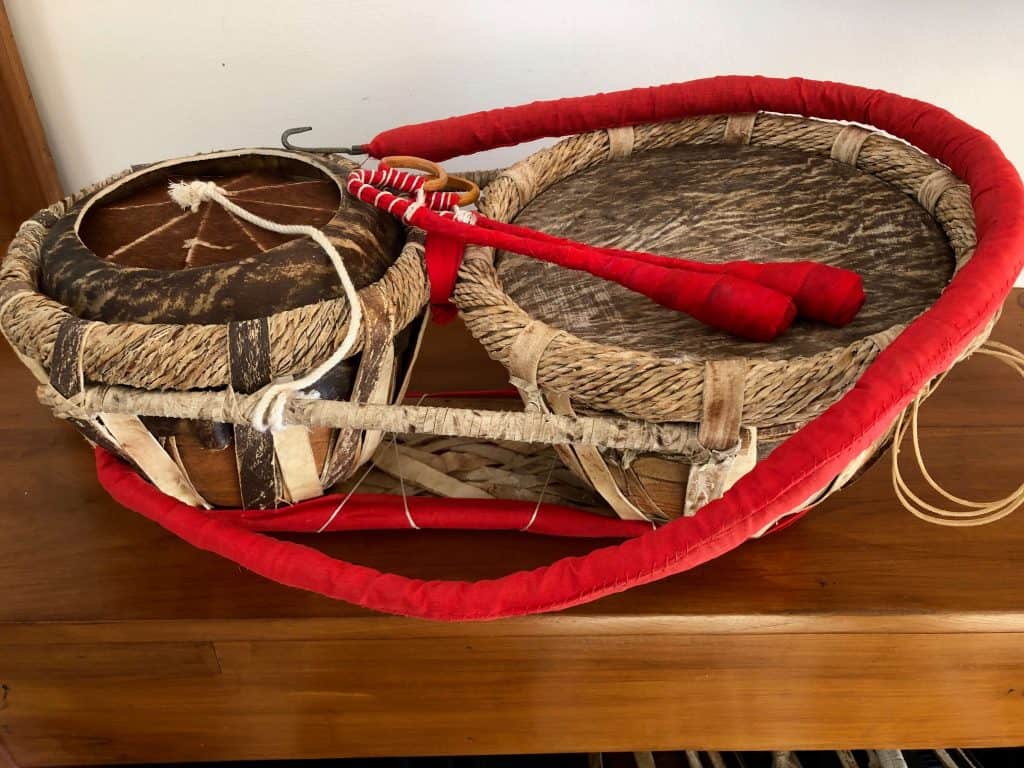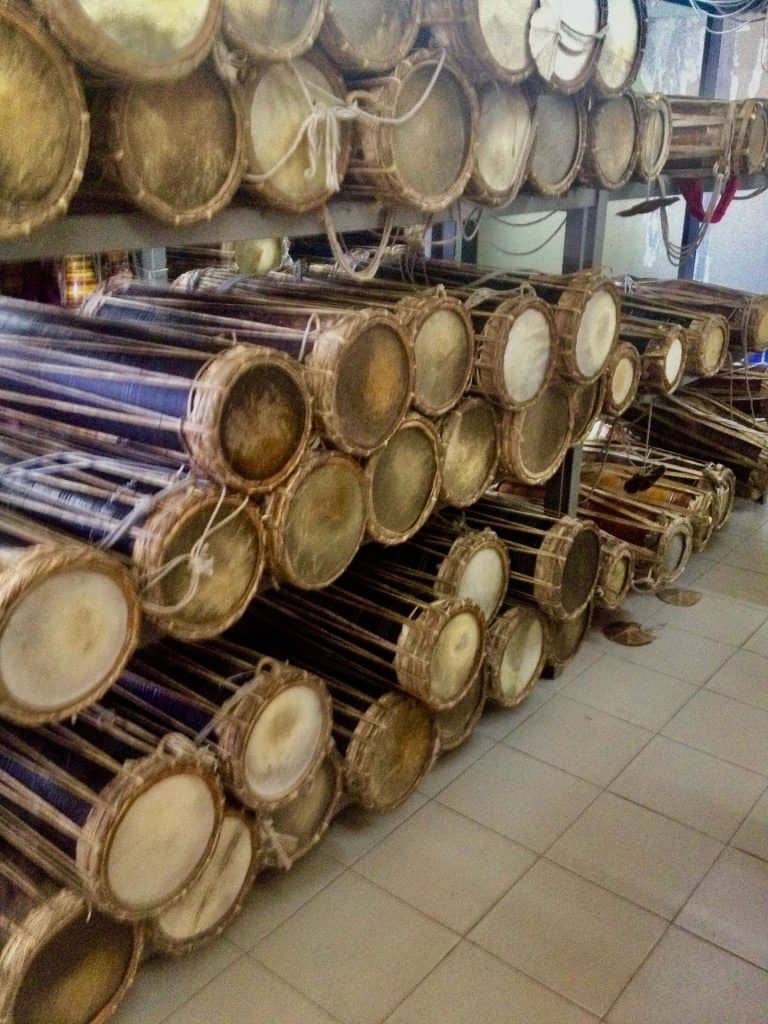 Sri Lanka has many different styles of drumming and drums.
The Hill country of Sri Lanka is the home of The Kandyan Drum or Gata Bera, which is a double sided drum, played with the both hands one on either side.
The Thammatama drum is played in the Hill country as well as in the Sabaragamuwa province, which is another region with a distinctive drumming style. The Thammatama is accompanied by the bass drum or Dawula played with a stick in one hand. This combination is also used at Buddhist temples for the opening of the temple and other important daily rituals.
In the South of the country there is a very old form of drumming and dance which pre dates the arrival of Buddhism to the country from India. These pre Buddhist animist rituals are still performed and played at auspicious occasions using a double headed drum called the Yak Bera. The Yak Bera or Low Country drum accompanies the dance which feature colourful costumes and masks.
Live Video of the Yak Bera accompanying Fire Dancer
Another drum used to accompany folk songs and dances is the Rabana, which is at type of circular frame drum with goatskin stretched across it.
The North of Sri Lanka is home to a distinctly different style of drumming that is closely connected to South Indian Drumming styles. The drums in the North vary in shape and size from the drums in the Southern and central parts of Sri Lanka and have different playing techniques to produce the sounds.
The Mridhangam is a popular drum used for many ceremonial occasions and to accompany traditional dance while the Tavil is a drum used for Hindu Temple rituals. Many other drums are also used to accompany traditional music and rituals and festivals.
Performance of Traditional Band using the Tavil Drums
The Portuguese who colonised Sri Lanka have also had an influence in shaping a popular song form and dance in Sri Lanka called the "Baila", which incorporates 6/8 rhythms similar to those found in Africa. Ethnomusicologists have referred to the Baila as an "Afro Iberian Sri Lankan music form" with the accompanying dance having its origins in the Portuguese Kafringha.
As Ray and Kanchana develop the repertoire of the Afro Lankan Drumming system they will use these diverse influences that have shaped Sri Lankan music forms to keep creating new rhythms and dances.
Both Ray and Kanchana collaborate closely with Kanchana's teacher Professor Karunaratne Bandara who is regarded as an authority on Sri Lankan drumming and dance styles. Professor Bandara is Professor of Aesthetic studies at The University of Colombo and both Ray and Kanchana travel to Sri Lanka regularly to work on new material and to further their own studies.
Video of Professor Bandara demonstrating Gata Bera
Afro Lankan Drumming Classes
As Ray's African Drumming students progress through their studies of African Drumming Ray introduces the Afro Lankan Drumming rhythms and concepts to the classes. Most of the Afro Lankan Drumming rhythms are played on African Drums with the more advanced African Drumming students also attempting to play the rhythms on Sri Lankan drums.
Since 2013 Ray and Kanchana have been running study tours to Sri Lanka every year. Ray's students from Australia and other countries join Ray and Kanchana on a two week tour where they learn the Afro Lankan Drumming repertoire, learn traditional dances from Sri Lanka and get some experience on the traditional drums of Sri Lanka.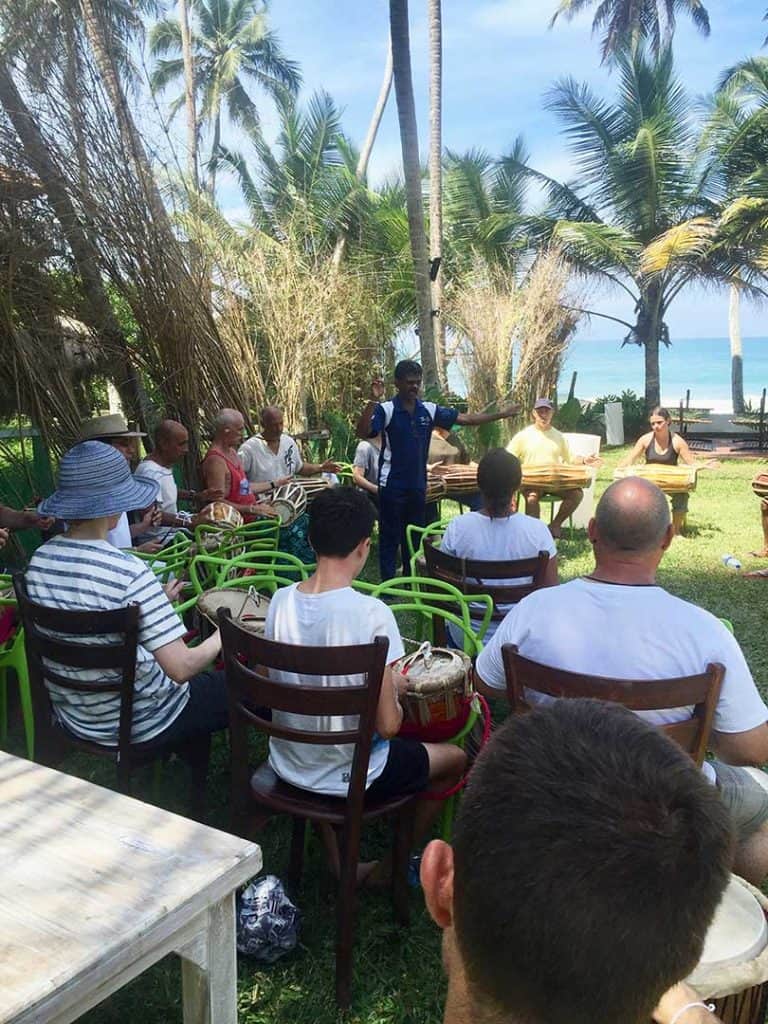 Prof Bandara teaching class in Sri Lanka