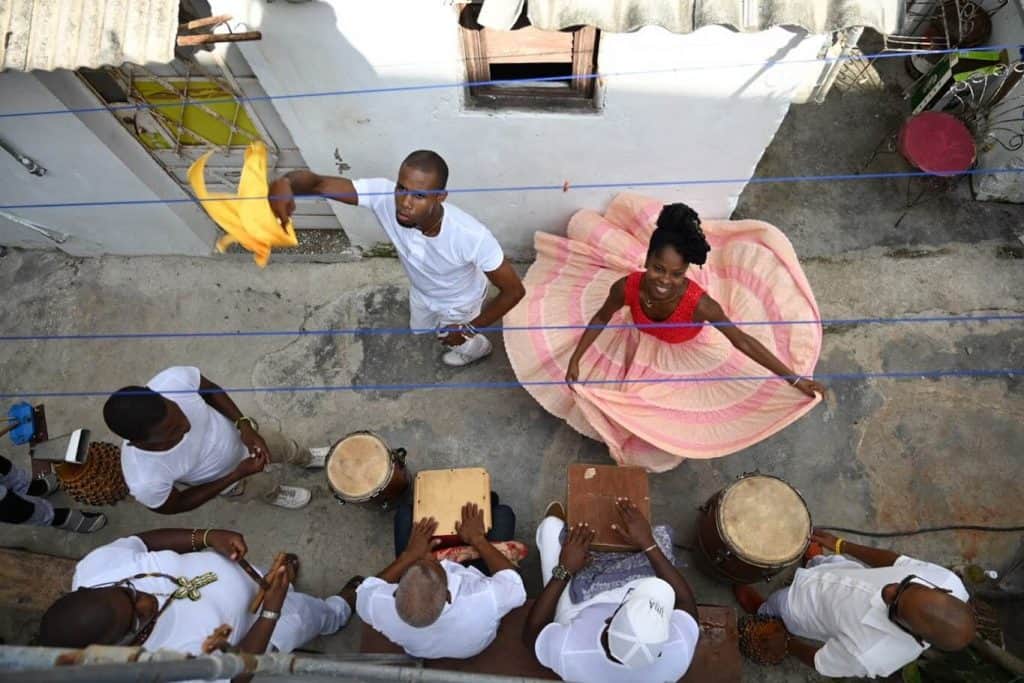 Dancers dancing the Rumba in Havana
In addition to teaching African Drumming and African Rhythms at his classes in Melbourne, Ray also teaches Cuban or Afro Cuban rhythms in his classes, using Cuban drums like the Conga drum.
Ray usually teaches these rhythms in the more advanced classes, as the Cuban style technique for playing rhythms on Conga drums is a little bit different to the technique used on the Djembe drum in Ray's African Drumming Classes.
Ray is also available for private lessons on Conga but these are by special appointment only. Call Ray if you are interested.
In 2020 Ray will be taking students on a Study Tour To Cuba to learn Cuban Drumming and Dance.
Conga De Comparsa performed by Ray
In Ray's Conga Drumming classes, Ray teaches his students the different sounds that can be produced on the Conga drum and how to play rhythms on the Conga. He also shows you how a traditional Cuban drumming ensemble works and how traditional Cuban rhythms are played together. 
There is a lot of similarity between traditional Cuban rhythms and traditional African Drumming rhythms as the origin of the drumming rhythms found in Cuba can be traced to several countries in Africa including the Congo, Nigeria, Benin and many other countries where African slaves were transported from. 
Like an African Drumming ensemble, a Cuban drumming ensemble may have up to three or four Conga drums played together with cowbells and shakers. The drums are tuned differently and each part plays a role in contributing to the complete rhythm as a whole.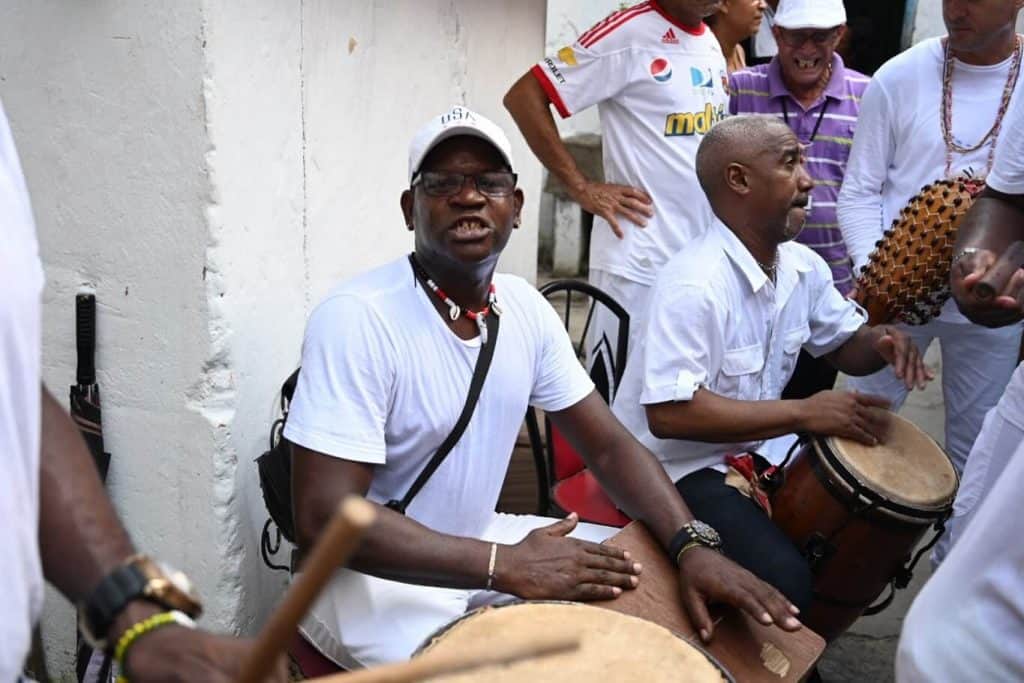 In Rays Cuban Drumming classes, Ray first teaches you how to get correct sounds from the Conga Drum while learning a basic part or rhythm. Students then progress to putting together the several parts that make up the rhythm.
Ray also teaches his students how the Cuban drums are combined with other drums and percussion instruments to play in a more modern context like a Salsa band. He teaches students the basic parts of rhythms played on the Timbali drums, bongo drums and cowbells and students learn how these parts combine together with the conga drum to form the rhythm section of a Salsa band. You can also learn traditional rhythms from the Rumba family (Guaguanco, Columbia, Yambu) plus Conga De Comparsa, and ritual rhythms from Bembe.
Cuban drumming has several different influences from different parts of Africa. Traditional rhythms were brought to Cuba from Africa with African slaves. These rhythms were then preserved and some changed and adapted over the years to produce what is now a distinctive Afro Cuban style.
The most popular and well known of the Cuban styles is based around the Conga drum with rhythms adapted from all the African ethnic groups who were brought to Cuba as slaves.
Other lesser known styles include Bata Drumming with origins in the Yoruba people of Nigeria.
The Bata drum is double headed drum played as a family of three drums and the rhythms are usually associated with rituals from the Afro Cuban religion of Santeria.
There are other lesser known styles called Tumba Francesca or Arara drumming similar to stick drumming found in countries like Benin and Togo in West Africa. These styles are also played in the neighbouring country of Haiti.
Like African Rhythms, Cuban rhythms have had an enormous influence on music around the world and are now popular in many countries outside Cuba.
Cuban rhythms are very popular in North America and Cuban style drums and mainstream American musicians have used rhythms since the fifties and sixties.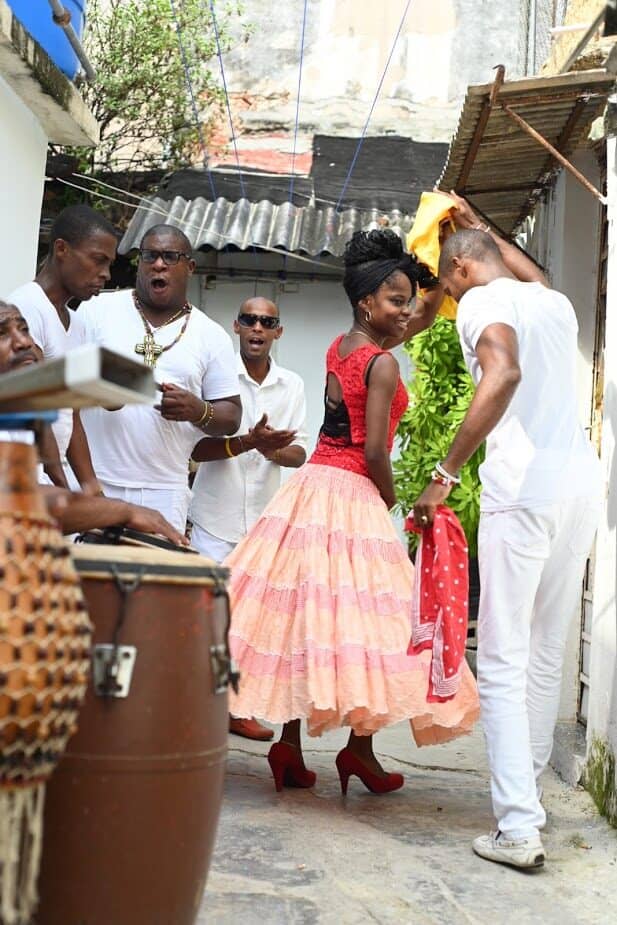 Jazz musicians like Dizzie Gillespie introduced the Conga drum to Jazz in the fifties when he collaborated with pioneer Cuban Conga drummer Chano Pozo. The genre known as Latin Jazz is heavily influenced by Cuban rhythms.
Santana further popularized Cuban rhythms when he fused them with Rock music to pioneer the Latin Rock genre.
Most contemporary popular music bands also use percussionists whose standard equipment usually includes a set of Conga drums.
Hollywood has also had a long time fascination with Cuban and Brazilian music, which has featured prominently in many films and TV series.
Learning Cuban rhythms in Ray's classes gives students an opportunity to add variety to their playing and learn how traditional African Drumming can change over the years to produce new hybrid forms.