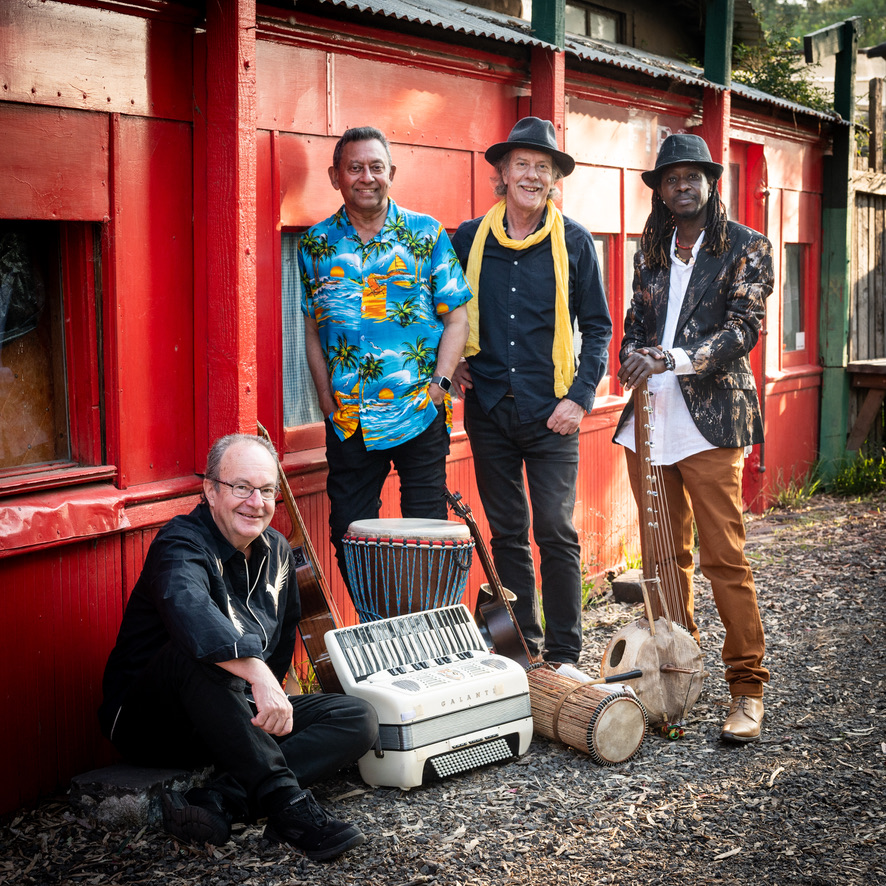 DJOLIBA RATTLER
Earlier this year, my friend George Butrumlis the accordion player called me and asked me if I wanted to come over for a jam. He told me that another friend of ours, bass player Mark Ferrie had met an African musician and they were jamming on some of his songs.
The musician was Aboubacar Djeliké Kouyate from the West African country of Mali.
I expressed interest with some reservation as I have been fairly selective in the gigs I do and the bands that I commit to. I said I would come around for a jam and then decide if I would continue.
We got together at Mark Ferrie's place in Yarraville, a suburb of Melbourne and over the course of an afternoon played through some of Aboubacar's songs.
I did like the material, and it was obvious to me that Aboubacar was a good singer and musician. He played guitar and a West African gourd harp called the Ngoni.
I said I was interested but didn't want to be tied down to a particular style of traditional percussion.
My style is a mix of a few different influences from Cuba, Sri Lanka and Africa. There are lots of similarities in the rhythms of course, although the technique on the different drums and percussion instruments varies. Aboubacar was open to this idea, so I agreed to become involved.
The particular sound of the group, especially with George on accordion appealed to me. It added something new. The music still remained faithful to its traditional sounds from Mali but was different. This appealed to me as I was not interested in playing in a typical "African "sounding band. This music was a good mixture of traditional and other influences and it seemed like a good vehicle for me to expand on some of my rhythmic repertoire.
Aboubacar comes from a "Griot" family in Mali. Griot is a French word while the traditional Mandeng word in Mali is "Djeli". Djeli are traditional musicians who are the oral historians of the community or a particular ethnic group. They carry the oral history of the group and transfer this knowledge down the generations in song and stories. Aboubacar comes from one of these families of griot musicians and is an excellent musician who plays a number of instruments and has a beautiful voice that's demands listening to. Aboubacar's father was also a well known musician who played in the famous Malian "Super Rail band" which had a long standing residency at the hotel in the main railway station in Bamako, the capital of Mali. Aboubacar's feel and his approach to rhythm meant that playing with him was a natural fit for me. He understands my style of playing and is responsive to it. I decided to join the group and work with the others on developing our sound, which even though it is fundamentally influenced by Aboubacar's Malian heritage also has significant inputs from George who is of Greek background but also plays traditional Greek music, Zydeco and Jazz and Mark who comes from a more Western musical tradition. Mark was an early member of one of Melbourne's influential bands in the late seventies, "The Models" and was also a member of the Indie rock band "Sacred Cowboys". Putting all these influences together means doing a bit of work and getting familiar with each other's style of playing with George and Mark having to understand some of the more complex polyrhythms and rhythmic cycles used by Aboubacar and myself in our approach to the rhythms we use.
This continues to be a work in progress, but we are getting a good response at our live gigs and have recently recorded two songs which will be released online soon including a video that accompanies the songs.
So, how did the name come about.
When we were discussing the name of the band, we wanted something that reflected our individual backgrounds. Aboubacar's partner Bronwyn came up with the name Djoliba Rattler.
Djoliba is the town in Mali that Aboubacar comes from. It is also the local name of the river Niger that flows through this landlocked country. "Djoliba means blood, life blood of the people. The river is like our blood that flows through us. It brings us everything and helps keep us alive" explains Aboubacar. George, Mark and I have lived and played in Melbourne for many years and people would argue that we have played a significant role in helping develop the Melbourne music scene. We needed something in the name to reflect that. Red Rattler was the name given to the old train carriages that used to traverse Melbourne. Back in the day Melbourne was known for these icons and also the old trams. So Rattler was added to Djoliba. It seemed fitting that since Aboubacar's father had also this connection to trains that we use this name for the band. It is also an unusual name that proves conversation and gives us an opportunity to talk about our different influences and background. This was an inspired idea from Bronwyn and was selected over some other suggestions as our name.
Check out the video snippets I have posted to get an idea of the music we play. Hope you enjoy it and come and see us play live.